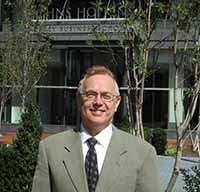 Robert Stowe England is an author and financial journalist who has specialized in writing about financial institutions, financial markets, retirement income issues, and the financial impact of population aging.
He writes for Institututional Investor and Bank Administration Institute's Banking Strategies , as well as others such as American Banker and OnWallStreet, and The Economist Intelligence Unit, a division of The Economist Group. He was a contributing writer and senior writer at Mortgage Banking Magazine from 1989 until October 2016, when the magazine ceased publication. He has reported in-depth on the financial crisis and market turmoil of 2007 to 2009, gaining praise for his work in the Wall Street Journal.
He is the author of Black Box Casino, which examines the causes of the financial crisis of 2008, as well as Aging China, which examines the impact of its aging population on China's economic prospects.
From 1999 to 2003 he has served as director of research for the Global Aging Initiative (GAI) at the Center for Strategic and International Studies in Washington, D.C. CSIS published three books authored by Mr. England on the impact of global aging on government spending on the elderly, the global economy, and financial markets.
Mr. England was the Washington correspondent for Plan Sponsor Magazine from 1993 to 2003. His other subject areas of concentration are business strategy, banking, corporate finance, and the economy.